China seeks higher quality coal, turns to Russia, Australia
September 21, 2023
Posted by:

Quatro Strategies

Categories:

Asia Pacific, China, Mining & Metals, Rare Earths & Commodities
China's coal imports have witnessed a notable upsurge, driven by the need to counter declining coal quality from domestic mines. Australia, a significant coal exporter, witnessed a revival in trade relations with China. Exports of thermal and coking coal reached 6.69 million tons in August, marking the highest figure since July 2020. This resurgence in trade is significant as China had imposed a ban on Australian coal shipments from late 2020 to the beginning of 2021, amid strained political ties.
Russian coal has also gained favor in the Chinese market, especially after the invasion of Ukraine. Moscow, seeking to find new buyers, has turned to its strategic ally to offload commodities that have been shunned by other buyers, often at discounted rates. Imports from Russia reached their second-highest level this year in August, totaling 9.96 million tons.
China's coal imports, encompassing low-grade lignite, hit an all-time high of 44 million tons in August. Concurrently, domestic production also reached a record for that time of year, totaling 382 million tons. These surges in supply come as the Chinese government endeavors to avert power shortages that have previously hampered the economy. However, the rush to extract more coal has led to a decline in the quality of domestic output, necessitating more fuel to generate the same amount of heat.
Analysts suggest that Australian and Russian coal shipments are grabbing market share from China's primary exporter, Indonesia, this year. Power plants, along with downstream sectors like chemicals, construction, and metals smelting, are seeking higher grades to meet their requirements. Mongolia's coal shipments, primarily coking coal, also reached a record 6.84 million tons in August, surpassing Indonesia's 5.89 million tons of thermal and coking coal. Although Indonesia remains China's major overseas supplier in total, the rise in Mongolian coal shipments indicates a shift in market dynamics.
Forecasts from energy information services suggest that China's total annual coal imports could reach 446 million tons, obliterating the previous record of 323 million tons set in 2021. However, this surge also implies a slowdown in shipments through the end of the year. Citic Securities Co. anticipates annual imports to rise to 400 million to 420 million tons, according to a recent webcast. The trajectory of coal imports into China indicates an evolving energy landscape, with implications for both domestic and international markets.
By QUATRO Strategies International Inc.
QUATRO Strategies International Inc. is the leading business insights and corporate strategy company based in Toronto, Ontario. Through our unique services, we counsel our clients on their key strategic issues, leveraging our deep industry expertise and using analytical rigor to help them make informed decisions to establish a competitive edge in the marketplace.
Interested in learning more?
Sign up for Top Insights Today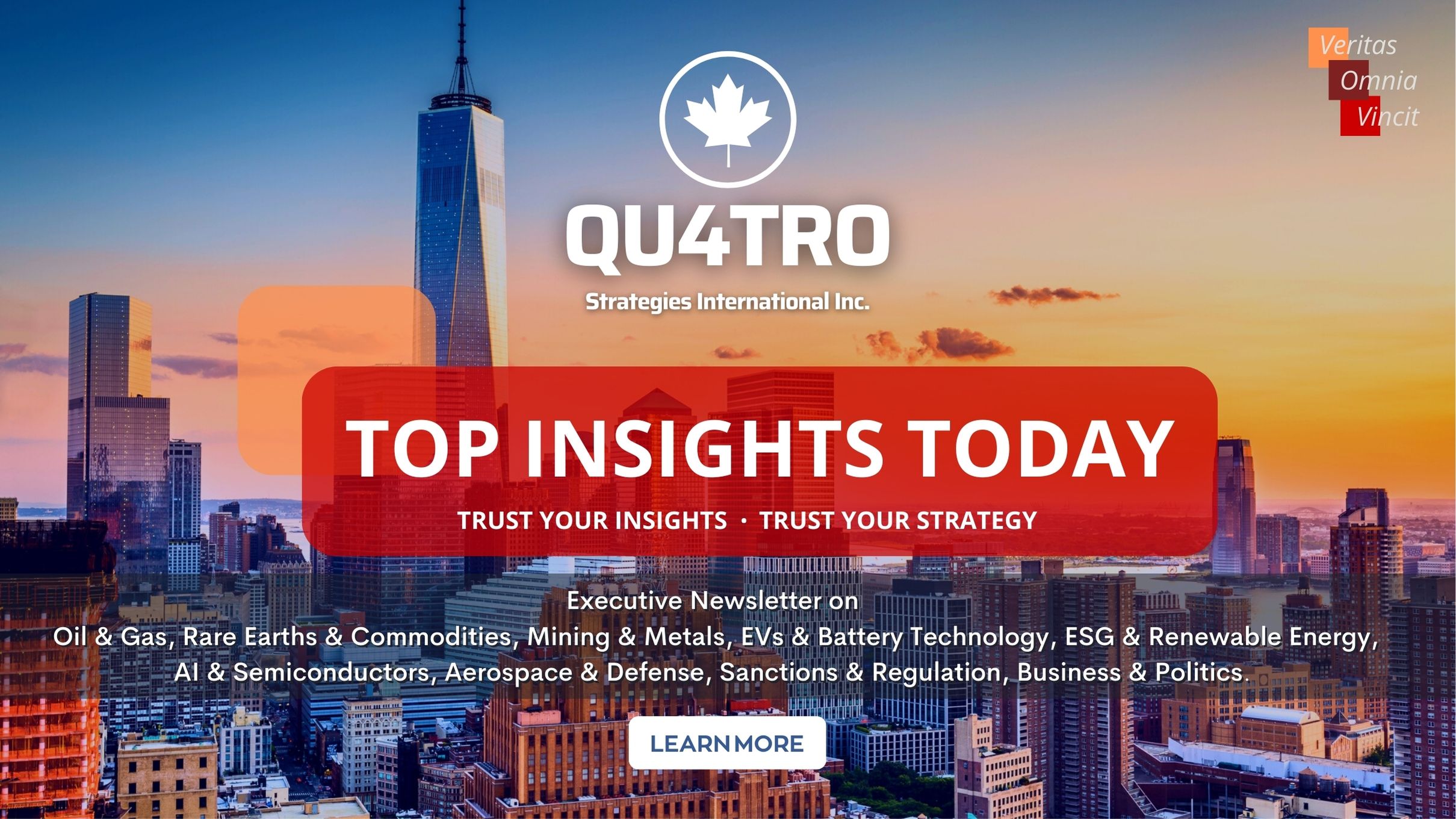 Top Insights Today delivers the latest insights straight to your inbox.
You will get daily industry insights on
Oil & Gas, Rare Earths & Commodities, Mining & Metals, EVs & Battery Technology, ESG & Renewable Energy, AI & Semiconductors, Aerospace & Defense, Sanctions & Regulation, Business & Politics.
Read more insights
Stay informed