France, Australia sign deal to study critical mineral supply chains
September 29, 2023
Posted by:

Quatro Strategies

Categories:

Asia Pacific, Europe, Mining & Metals, Rare Earths & Commodities
Australia and France have forged an agreement that marks a significant step in understanding and strengthening critical minerals supply chains. These minerals are integral to the production of batteries and rare earth magnets, vital components for modern technology and clean energy. The collaborative study will not only shed light on the precise requirements of these minerals in both countries but also explore strategies to ensure stable and secure supply chains.
Australia's Minister for Resources and Northern Australia, Madeleine King, signed this agreement alongside France's Minister for Energy Transition, Agnes Pannier-Runacher. The joint study, expected to conclude by the end of the year, reflects a shared commitment to sustainability and the recognition of the strategic importance of critical minerals.
This initiative follows calls from Australia to the European Union not to hinder its efforts in developing a self-reliant critical minerals industry. Australia is planning to process more of its mineral resources domestically, advocating for a diverse and resilient critical mineral supply chain.
This approach aligns with their newly unveiled critical minerals strategy, featuring substantial funding through the Northern Australia Infrastructure Facility and plans for the National Reconstruction Fund to support critical minerals projects.
The definition of critical minerals in the Australian context encompasses minerals such as lithium, magnesium, cobalt, and silicon, all fundamental to the clean energy transition and the development of modern technologies. Prime Minister Anthony Albanese highlighted the forthcoming release of Australia's first national battery strategy, aimed at boosting investment in the country's battery manufacturing industry.
This collaborative study with France is a significant stride towards enhancing the global understanding and accessibility of critical minerals while fortifying sustainable and secure supply chains.
QUATRO Strategies International Inc. is the leading business insights and corporate strategy company based in Toronto, Ontario. Through our unique services, we counsel our clients on their key strategic issues, leveraging our deep industry expertise and using analytical rigor to help them make informed decisions to establish a competitive edge in the marketplace.
Interested in learning more?
Sign up for Top Insights Today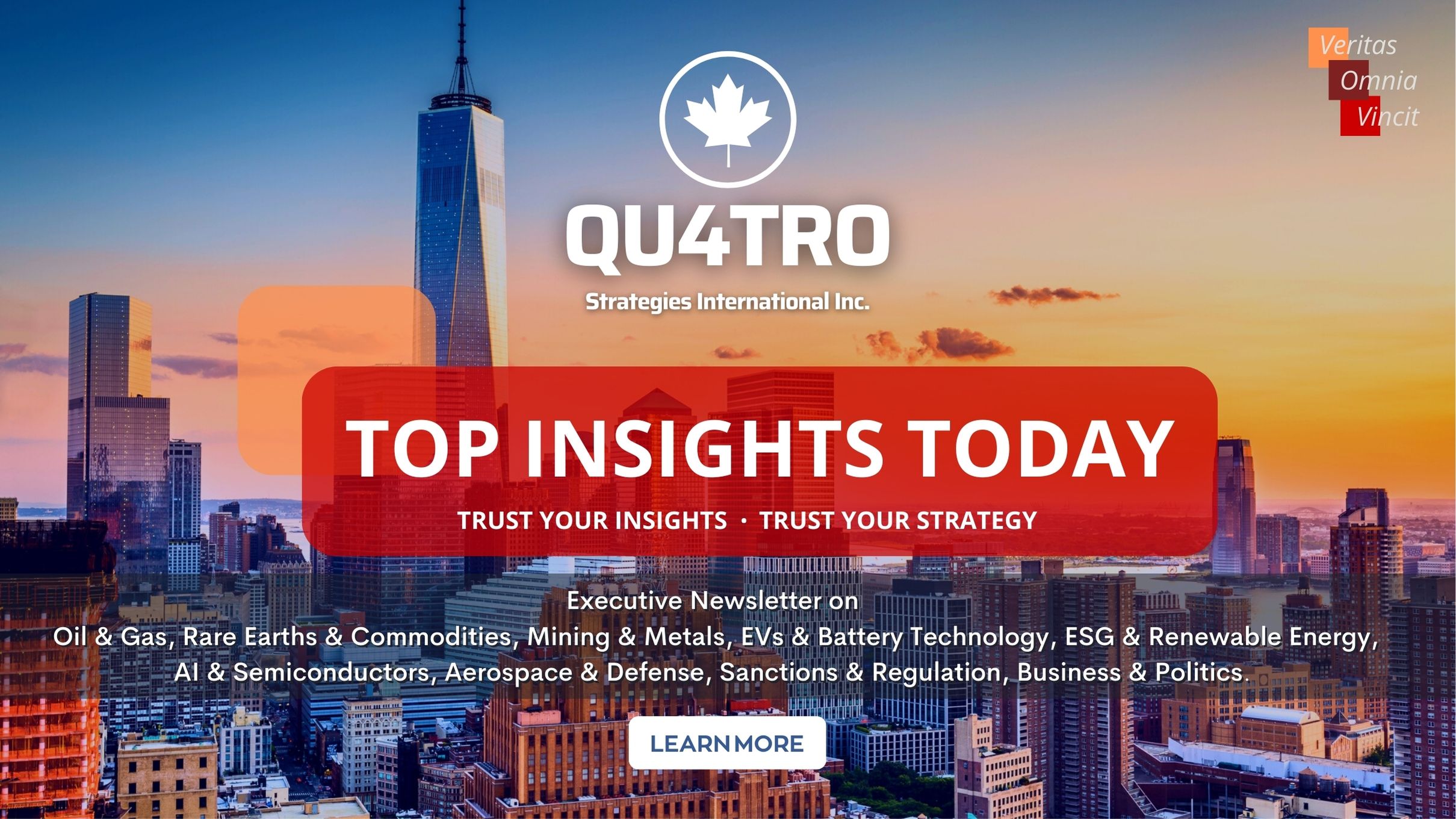 Top Insights Today delivers the latest insights straight to your inbox.
You will get daily industry insights on
Oil & Gas, Rare Earths & Commodities, Mining & Metals, EVs & Battery Technology, ESG & Renewable Energy, AI & Semiconductors, Aerospace & Defense, Sanctions & Regulation, Business & Politics.
Read more insights
Stay informed