G7, India to discuss affects of diamond export ban on Russia
September 22, 2023
Posted by:

Quatro Strategies

Categories:

Europe, India, Mining & Metals, Sanctions & Regulation
Representatives from Western nations, including the G7 countries and Belgium, are set to visit India, a significant hub for diamond cutting and polishing, to discuss potential ramifications of G7 restrictions on the import of rough Russian diamonds. India is home to 90% of the world's cutting and polishing of rare gems and plays a critical role in the global diamond supply chain.
The G7 nations are collaborating on a tracing system that would allow them to block imports of stones mined in Russia, the world's largest producer of rough gems. This initiative could significantly impact the diamond supply chain. However, successful implementation hinges heavily on India's cooperation, given the large number of people employed in its diamond industry.
Belgium, a crucial player in the diamond trade and a hub for diamond trading, is not part of the G7 but is expected to be involved in the discussions. It anticipates the G7 to announce a ban on Russian diamonds in the coming weeks to further tighten pressure on Russia's financing of the war in Ukraine.
The EU has imposed several rounds of trade restrictions on Russia since the invasion of Ukraine. However, sanctions on Russian diamonds have been a contentious issue. Poland recently urged the EU to impose sanctions on Russian diamonds, a significant source of revenue for Moscow. The EU has been cautious, as unanimity among all 27 member states is required to impose sanctions.
In response to Moscow's invasion of Ukraine, the United States has already imposed sanctions on Alrosa, a state-controlled Russian miner, and prohibited the import of non-industrial diamonds of Russian origin into the United States. The visit to India aims to discuss the potential implications of similar actions by the G7.
By QUATRO Strategies International Inc.
QUATRO Strategies International Inc. is the leading business insights and corporate strategy company based in Toronto, Ontario. Through our unique services, we counsel our clients on their key strategic issues, leveraging our deep industry expertise and using analytical rigor to help them make informed decisions to establish a competitive edge in the marketplace.
Interested in learning more?
Sign up for Top Insights Today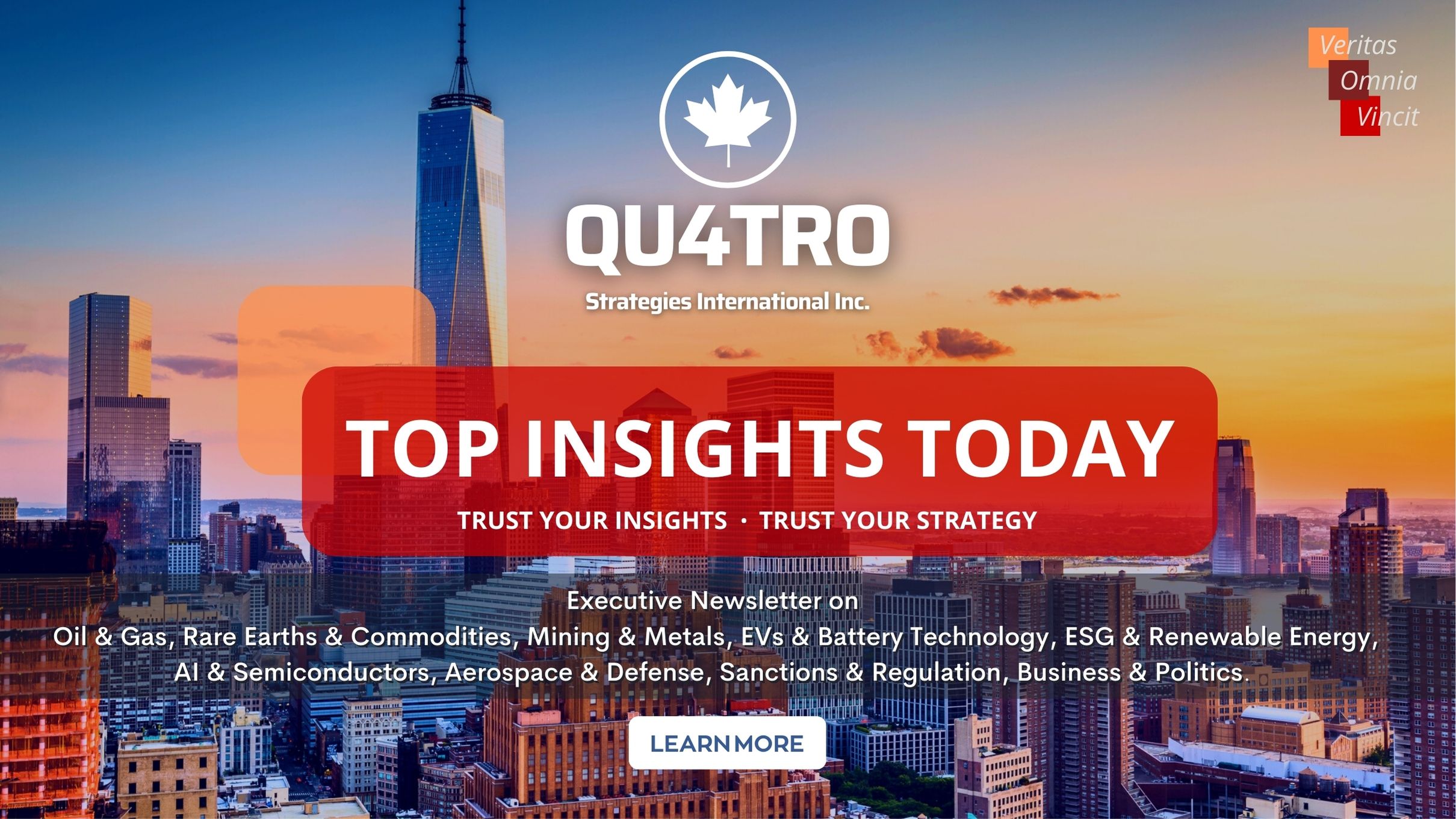 Top Insights Today delivers the latest insights straight to your inbox.
You will get daily industry insights on
Oil & Gas, Rare Earths & Commodities, Mining & Metals, EVs & Battery Technology, ESG & Renewable Energy, AI & Semiconductors, Aerospace & Defense, Sanctions & Regulation, Business & Politics.
Read more insights
Stay informed