India's JSW in talks with South Korea's LGES for EV battery production in India
September 22, 2023
Posted by:

Quatro Strategies

Categories:

Asia Pacific, EVs & Battery Technology, India
JSW Group, a major Indian conglomerate with interests spanning from steel to energy, is reportedly engaged in early-stage talks with LG Energy Solution (LGES), a prominent battery manufacturer based in South Korea. The discussions are centered around the possibility of collaborating to manufacture batteries within India. Specifically, the aim is to produce battery cells for electric vehicles (EVs) and energy storage systems, contributing to the growing movement towards sustainable and green transportation.
This potential partnership aligns with JSW's broader strategy to establish a comprehensive and localized supply chain for EVs. To this end, JSW is not only in talks with LGES but is also engaging with other major battery manufacturers like China's Contemporary Amperex Technology Co. Limited (CATL) and renowned Japanese firms Panasonic and Toshiba. The objective is to build a robust ecosystem for EVs that encompasses various critical components, from batteries to storage solutions.
While details of the talks remain private, reports suggest that LGES has requested specific information from JSW about their requirements for EVs and energy storage. JSW, a versatile and expansive group led by billionaire Chairman Sajjan Jindal, envisions setting up a battery production facility in India with a capacity to produce up to 20 gigawatt-hours (GWh) of batteries. The plan involves implementing this production capacity in phases by the end of the decade, commencing with an initial phase capable of generating 8 GWh.
India's EV market is on a steady growth trajectory, backed by the government's ambitious vision. Prime Minister Narendra Modi's administration is pushing to increase the adoption of electric vehicles, aiming for EVs to constitute 30% of all cars sold by 2030. To incentivize companies and stimulate local production, the government is offering substantial incentives and tax breaks for domestic manufacturing of EV components, including batteries. This has attracted the interest of global players like Tesla, which is also in talks with the Indian government regarding local EV and battery production.
The discussions between JSW and LGES come at a critical juncture when the global shift towards EVs is gaining momentum, and countries are keen to foster domestic manufacturing and technology development to bolster their sustainable mobility agendas. This potential collaboration underscores the dynamic and evolving landscape of the electric vehicle industry, particularly in emerging markets like India.
By QUATRO Strategies International Inc.
QUATRO Strategies International Inc. is the leading business insights and corporate strategy company based in Toronto, Ontario. Through our unique services, we counsel our clients on their key strategic issues, leveraging our deep industry expertise and using analytical rigor to help them make informed decisions to establish a competitive edge in the marketplace.
Interested in learning more?
Sign up for Top Insights Today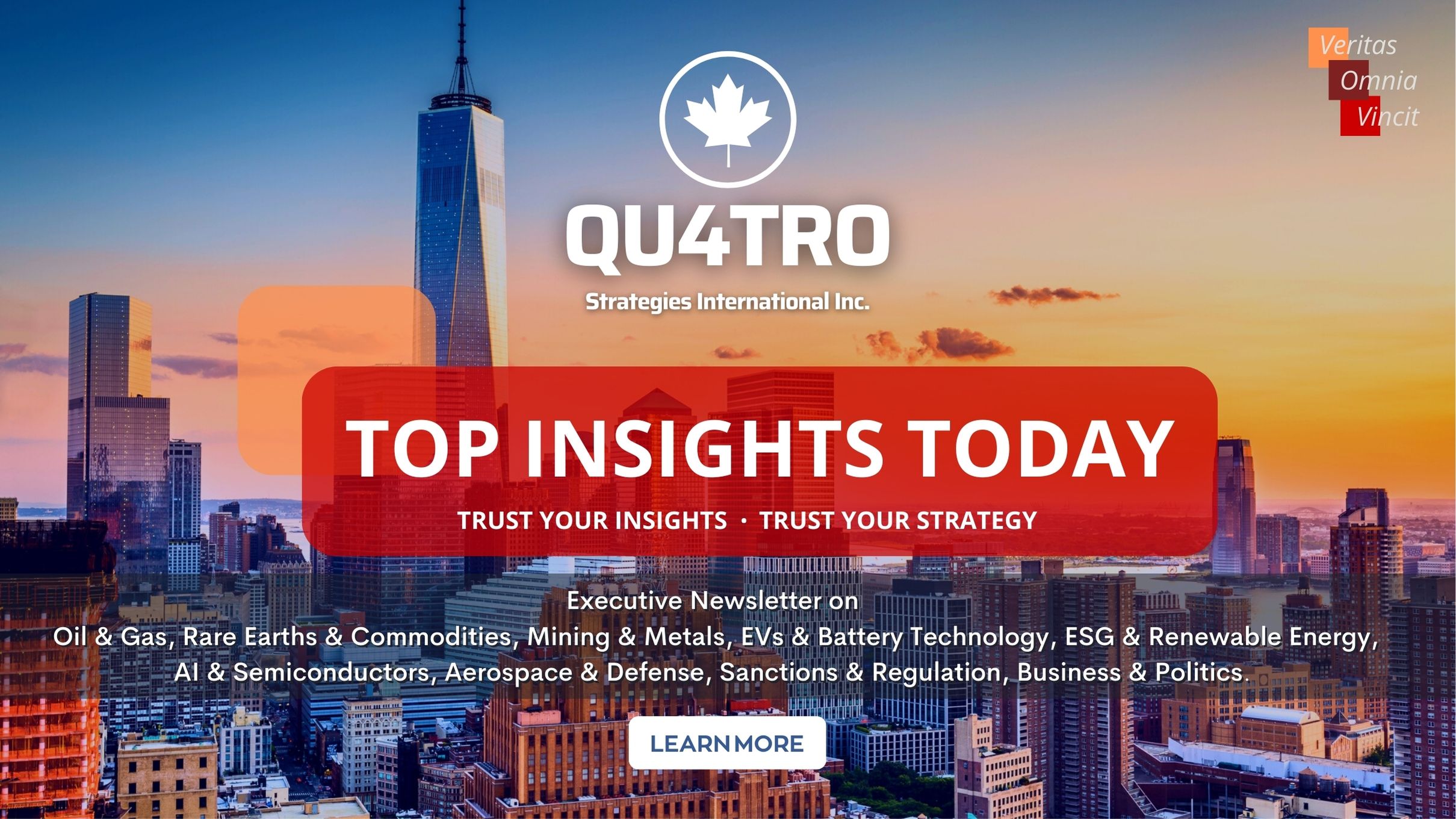 Top Insights Today delivers the latest insights straight to your inbox.
You will get daily industry insights on
Oil & Gas, Rare Earths & Commodities, Mining & Metals, EVs & Battery Technology, ESG & Renewable Energy, AI & Semiconductors, Aerospace & Defense, Sanctions & Regulation, Business & Politics.
Read more insights
Stay informed