Investors starting to turn back on clean energy
September 21, 2023
Posted by:

Quatro Strategies

Category:

ESG & Renewable Energy
In a somewhat surprising turn of events, investors have withdrawn a record amount of money from the world's largest clean energy investment vehicles during the first eight months of this year. A net total of $765 million was withdrawn from the iShares Global Clean Energy ETF (ICLN), marking a substantial outflow and a record for any January to August period.
Another clean energy ETF, the First Trust NASDAQ Clean Edge Green Energy Index (QLN), experienced a net outflow of $197 million, while the VanEck Low Carbon Energy ETF (SMOG) saw a net withdrawal of $23.6 million. The trend seems to be a shift in investor preference toward sectors like artificial intelligence (AI), prompting a move away from energy investments.
One of the main contributors to this trend is the attractiveness of sectors like AI. The Global X Robotics & Artificial Intelligence ETF (BOTZ), the largest ETF in the AI space, witnessed substantial net inflows of over $614 million through August, the highest for that fund during that period since 2018. The clean energy sector had outperformed other sectors, including technology, over the past two years, making it a likely target for some investors to reallocate their holdings and join the AI rush.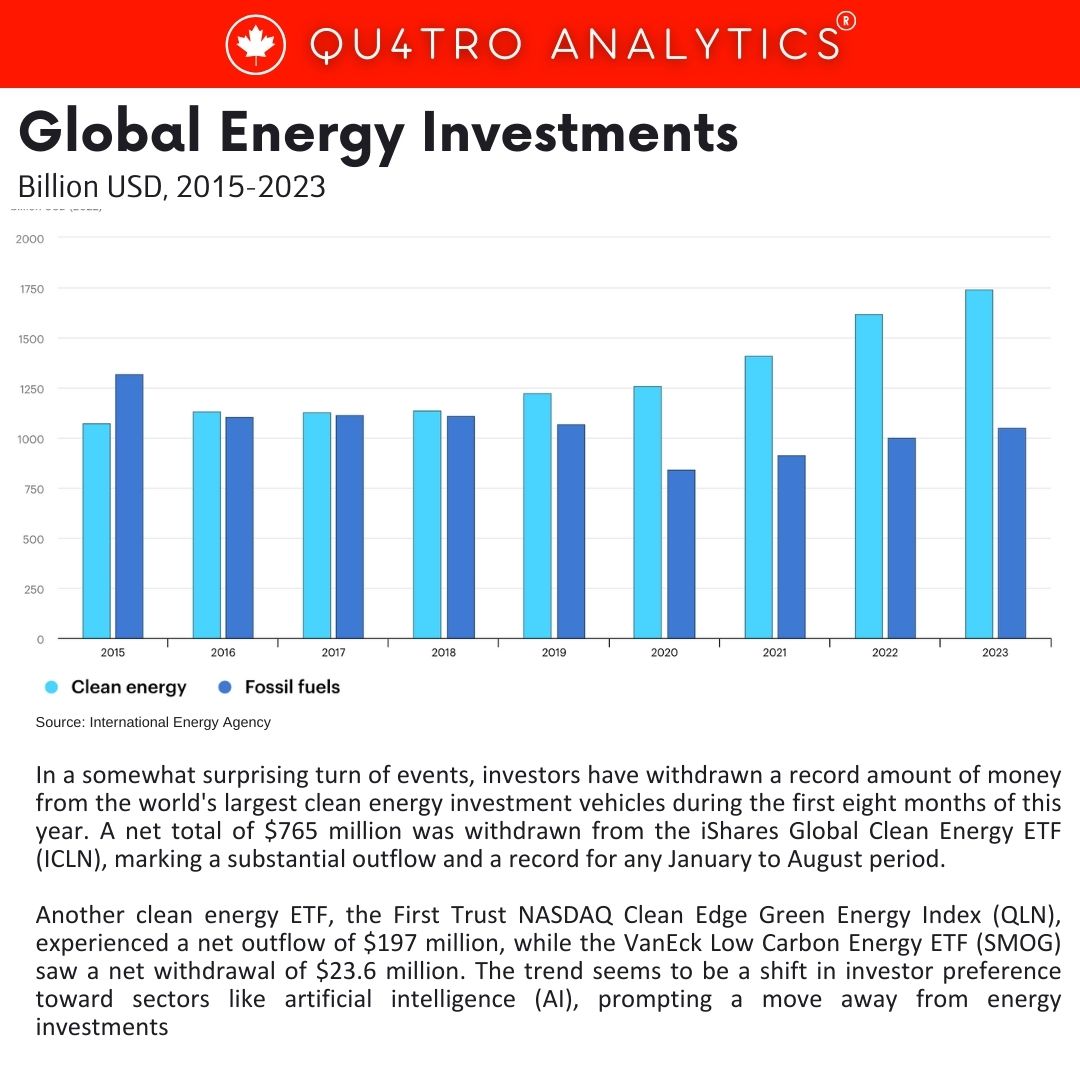 However, significant disappointments within the clean energy industry have also impacted investor confidence. The wind power sector, in particular, faced disappointing national offshore auction results in Britain and the United States, contributing to this downturn. The European solar industry raised concerns about a challenging situation for solar photovoltaic (PV) manufacturers due to plummeting PV prices.
Even the electric vehicle (EV) market, seen as a bright spot in the energy transition, encountered potential hurdles. The European Commission threatened an investigation into subsidies for Chinese EV makers, causing uncertainty in a market where they have been gaining market share at the expense of European automakers.
Despite these challenges, the broader push for cleaner energy sources continues to have widespread support at societal, political, and corporate levels. Investors, especially long-term ones, are likely to remain interested in clean energy, and even modest success stories tied to government or corporate renewable energy projects could reverse the recent fund flow trends from outbound to inbound.
The price drop in major clean energy ETFs, reaching their lowest levels in over three years, might be viewed as an attractive entry point for potential investors, considering the ongoing support and investment into the broader energy transition. Ultimately, while investors in ETFs and other funds play a role, they are not the main drivers of the global energy transition, which is set to continue regardless of short-term investment trends. The shifts in fund flows do, however, provide insights into broader sentiment within the clean energy sector, which could rebound once positive earnings and development auction results start to materialize.
By QUATRO Strategies International Inc.
QUATRO Strategies International Inc. is the leading business insights and corporate strategy company based in Toronto, Ontario. Through our unique services, we counsel our clients on their key strategic issues, leveraging our deep industry expertise and using analytical rigor to help them make informed decisions to establish a competitive edge in the marketplace.
Interested in learning more?
Sign up for Top Insights Today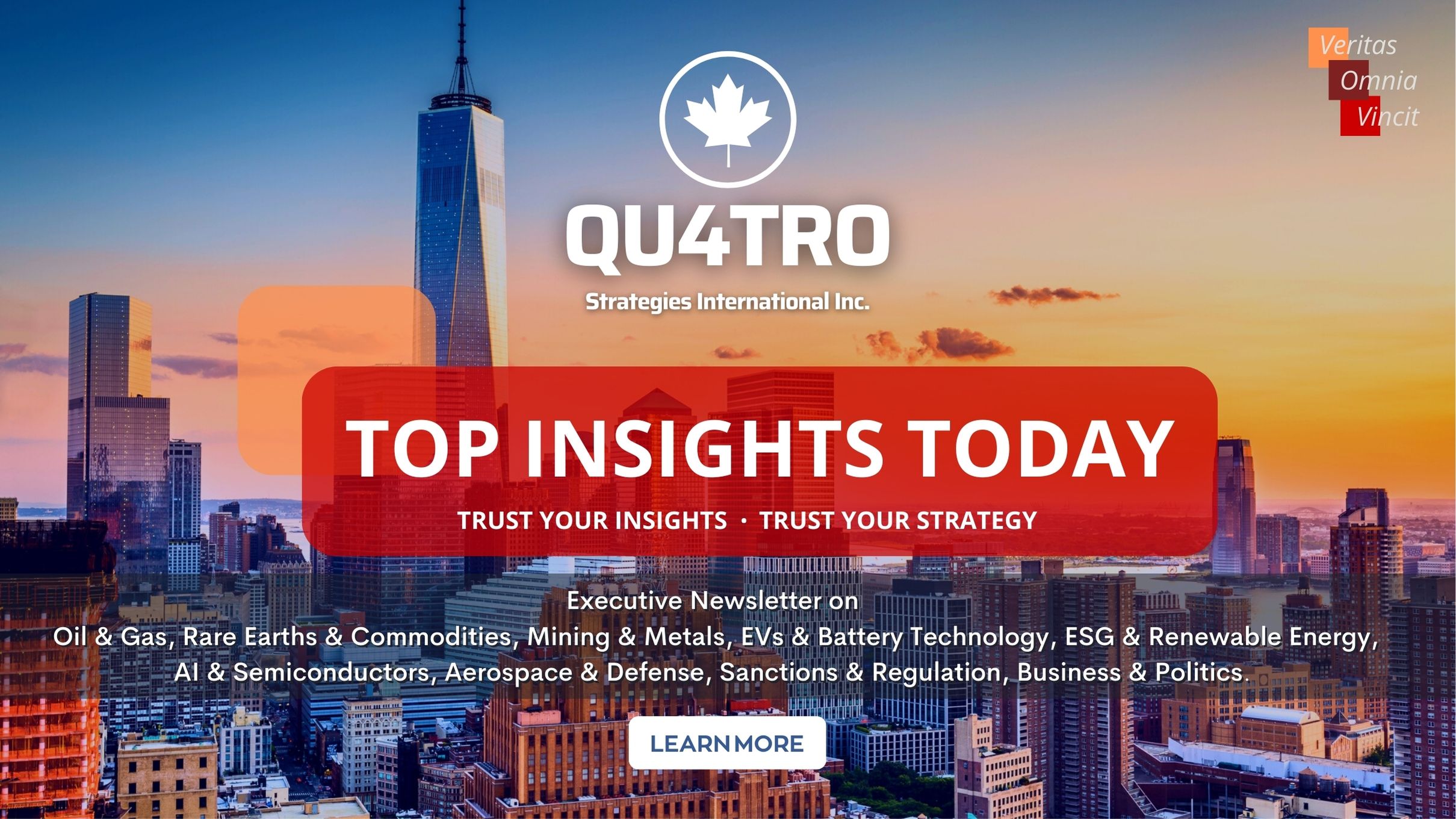 Top Insights Today delivers the latest insights straight to your inbox.
You will get daily industry insights on
Oil & Gas, Rare Earths & Commodities, Mining & Metals, EVs & Battery Technology, ESG & Renewable Energy, AI & Semiconductors, Aerospace & Defense, Sanctions & Regulation, Business & Politics.
Read more insights
Stay informed