Japan's Subaru Eyes Indiana as the location of U.S. EV plant
September 15, 2023
Posted by:

Quatro Strategies

Categories:

Asia Pacific, EVs & Battery Technology, United States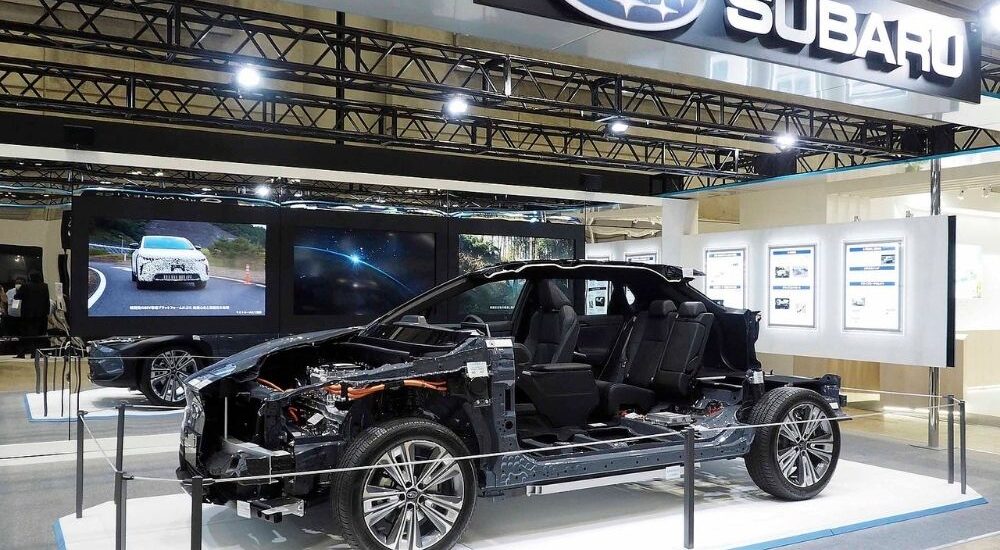 Subaru is seriously considering Indiana as a prime location for establishing an electric vehicle (EV) production facility in the United States. The Japanese automaker is targeting significant growth in its EV sales by 2028, with the ultimate goal of reaching an annual sales target of 600,000 battery-powered vehicles by 2030, with a strong focus on selling 400,000 of those EVs in the United States.
While Subaru is still in the process of evaluating potential sites for its EV production, its CEO, Atsushi Osaki, hinted that the existing Subaru plant in Lafayette, Indiana, is emerging as a top contender for this purpose. This particular facility has been responsible for manufacturing Legacy and Outback models for Subaru. However, Osaki emphasized that no final decisions have been made, and Subaru is considering various factors in its site selection process.
Osaki conveyed that the decision-making timeline is approaching, without specifying whether Subaru plans to construct a new factory or modify existing production lines at the chosen location. He revealed that he recently met with Indiana Governor Eric Holcomb, which suggests that discussions around potential investments and expansion in Indiana have already commenced.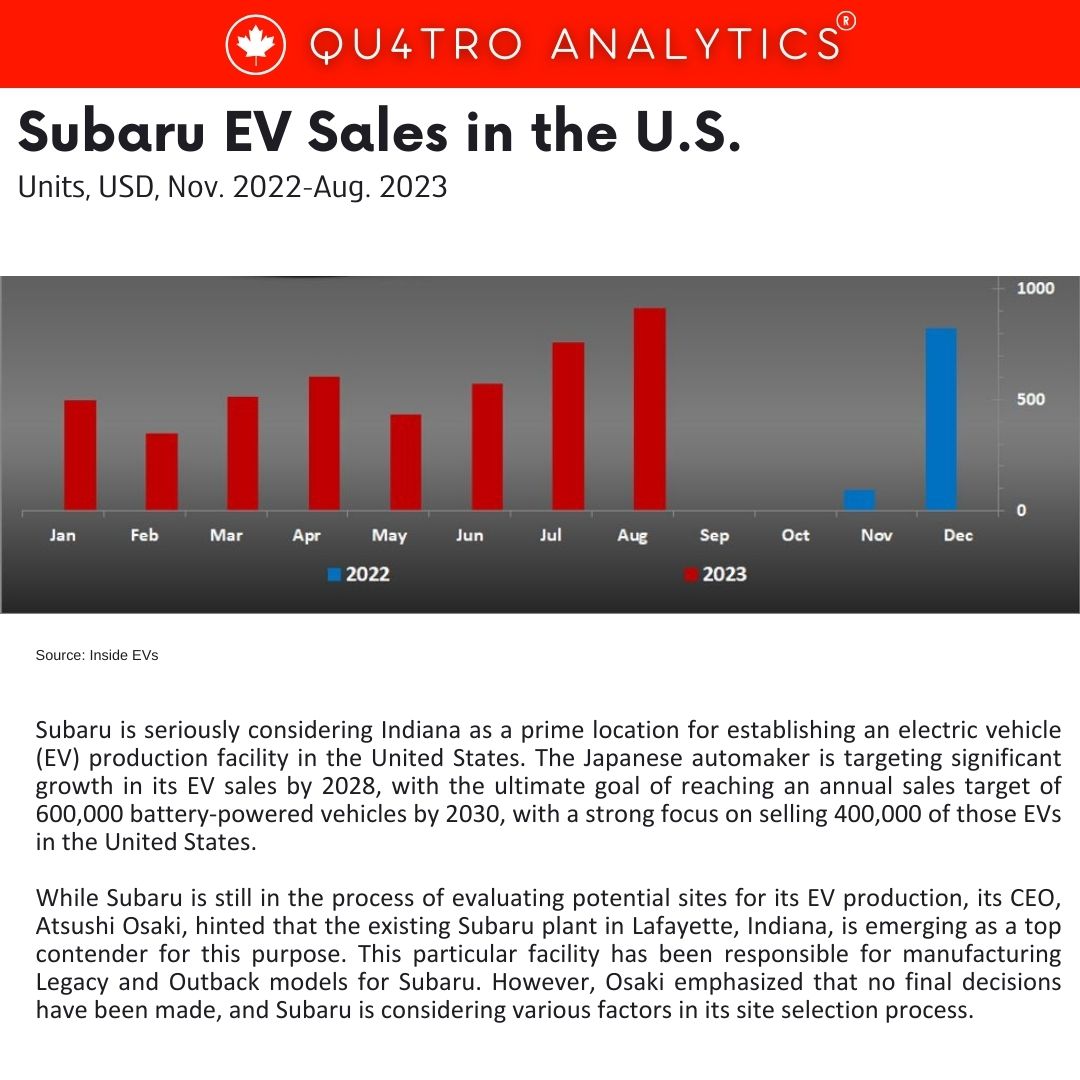 Subaru, known for its heavy reliance on the North American market, announced in August its ambitious plan to expand its EV lineup to include eight models by the end of 2028. Currently, Subaru is producing its first mass-produced EV, the Solterra, in collaboration with Toyota. The company aims to launch three new EV models by the end of 2026 and an additional four by the end of 2028, aligning with its strategy to bolster its presence in the rapidly growing electric vehicle market.
The Japanese automaker unveiled plans to boost EV production last month. It is targeting the production of eight EV models by 2028, a significant shift in strategy. Osaki announced this plan, which includes an ambitious goal of achieving a 50% share of battery electric vehicle (BEV) sales by 2030.
In the United States, Subaru is particularly focused on EV growth. The company aims to sell 400,000 EVs in the U.S. by 2028, with America accounting for approximately 70% of Subaru's total sales. This marks a major departure from Subaru's earlier plan, which aimed for a combined 40% share of EVs and hybrid vehicles.
To achieve these targets, Subaru plans to commence in-house EV production in 2025 and introduce dedicated EV production lines around 2027. This growth strategy will be supported by an investment of 1.5 trillion yen (approximately $10.4 billion) by around 2030, which includes a previously announced 250 billion yen for domestic production reorganization.
Subaru intends to launch four electric SUV models by the end of 2026, including the Solterra, its first EV. An additional four new EV models will follow by the end of 2028, bringing the total to eight. Currently, Subaru's only electric vehicle, the Solterra, is produced in collaboration with Toyota, which owns a 20% stake in Subaru.
Toyota is also playing a pivotal role in Subaru's EV plans. Earlier this week, Subaru and Panasonic announced talks to supply next-generation cylindrical lithium-ion batteries from the latter half of the 2020s, including the construction of a dedicated EV plant in Japan.
As the global automotive industry pivots toward electric vehicles, Subaru, in collaboration with Toyota and Panasonic, is positioning itself for growth and competitiveness in this rapidly evolving market.
Interested in learning more?
Sign up for Top Insights Today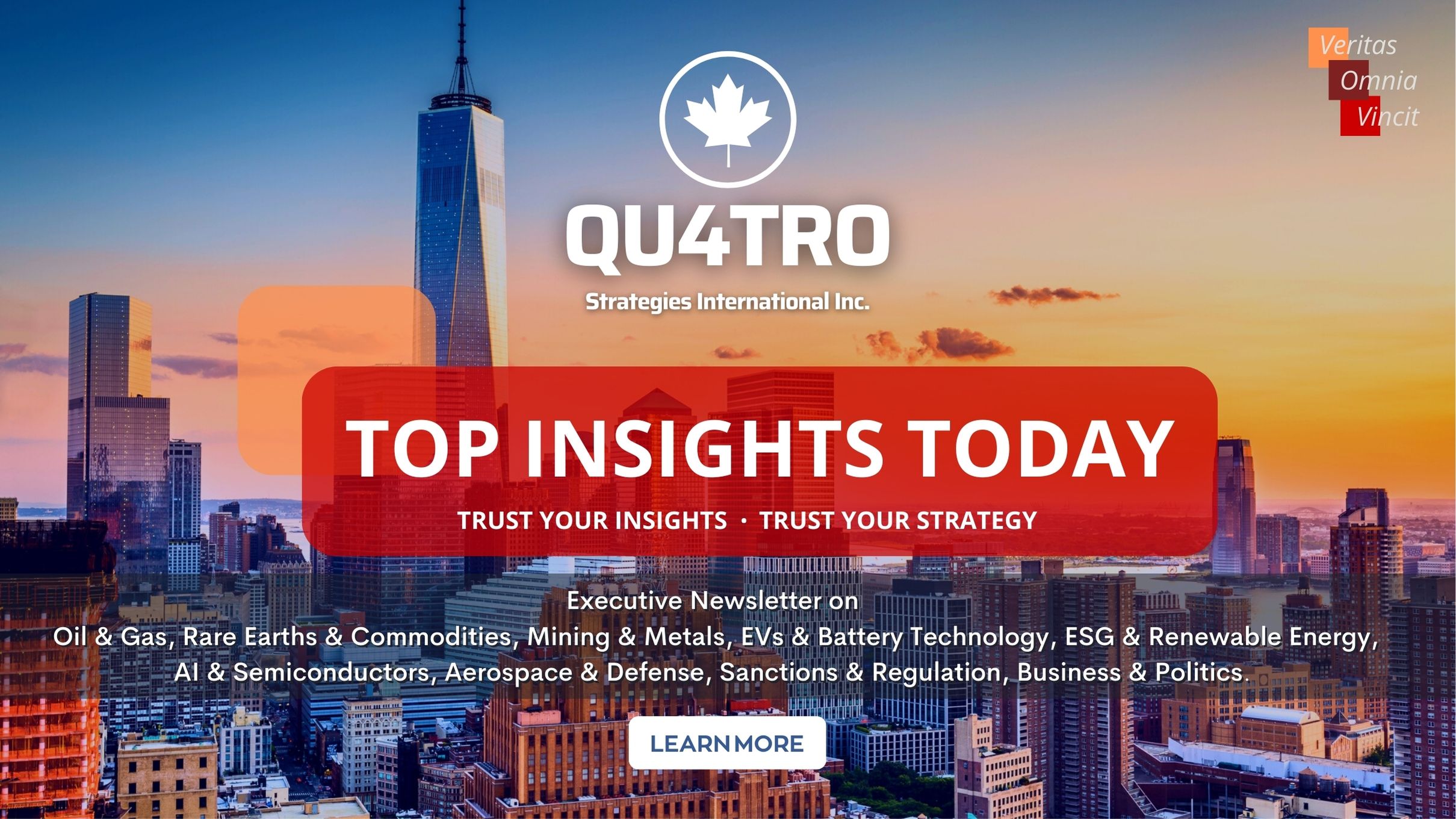 Top Insights Today delivers the latest insights straight to your inbox.
You will get daily industry insights on
Oil & Gas, Rare Earths & Commodities, Mining & Metals, EVs & Battery Technology, ESG & Renewable Energy, AI & Semiconductors, Aerospace & Defense, Sanctions & Regulation, Business & Politics.
Read more insights
Stay informed