Rio Tinto makes funds available for Guinea iron deposit ahead of Chinese partners
September 19, 2023
Posted by:

Quatro Strategies

Categories:

Africa, Mining & Metals, Rare Earths & Commodities
Rio Tinto, an Anglo-Australian mining company, is shouldering the entire financial burden of preparatory work at the Simandou mining blocks, one of the world's largest untapped iron ore deposits, due to delays in funds from its Chinese partners. Rio Tinto owns two of the four Simandou mining blocks as part of its Simfer joint venture with China's Chalco Iron Ore Holdings (CIOH) and the government of Guinea where the mine is situated.
Despite spending over $500 million on the project that should have been shared with CIOH, Rio Tinto's Chinese partners have been held up in securing state approval for the financing. CIOH, predominantly owned by Aluminum Corporation of China (Chinalco) and Baowu Steel Group, with additional stakes held by China Railway Construction Corporation (CRCC) and China Harbour Engineering Company (CHEC), has struggled to obtain financial approvals due to complex ownership structures and China's economic slowdown.
The delay in funds poses a significant concern, as Rio Tinto's share of the financial commitment could deplete if their Chinese partners do not secure approval for funding. Simandou's development has been fraught with challenges, including legal disputes, political shifts in Guinea, and the formidable task of constructing over 600 km of rail and port infrastructure for exporting the ore from the southeast of the country.
Meanwhile, Simandou's other two blocks are owned by the Winning Consortium Simandou (WCS), a coalition of companies including Winning International Group, Weiqiao Aluminium (part of China Hongqiao Group), and United Mining Suppliers. WCS has been making steady progress with its construction work and associated infrastructure development, employing a workforce of over 10,000 people.
Despite the hurdles, the Simandou project is seen as moving forward, albeit with financial concerns regarding the Chinese partners' contributions. Rio Tinto had allocated significant funds for its share of the development, expecting to invest $800 million in 2023, followed by approximately $2 billion each year in 2024 and 2025.
By QUATRO Strategies International Inc.
QUATRO Strategies International Inc. is the leading business insights and corporate strategy company based in Toronto, Ontario. Through our unique services, we counsel our clients on their key strategic issues, leveraging our deep industry expertise and using analytical rigor to help them make informed decisions to establish a competitive edge in the marketplace.
Interested in learning more?
Sign up for Top Insights Today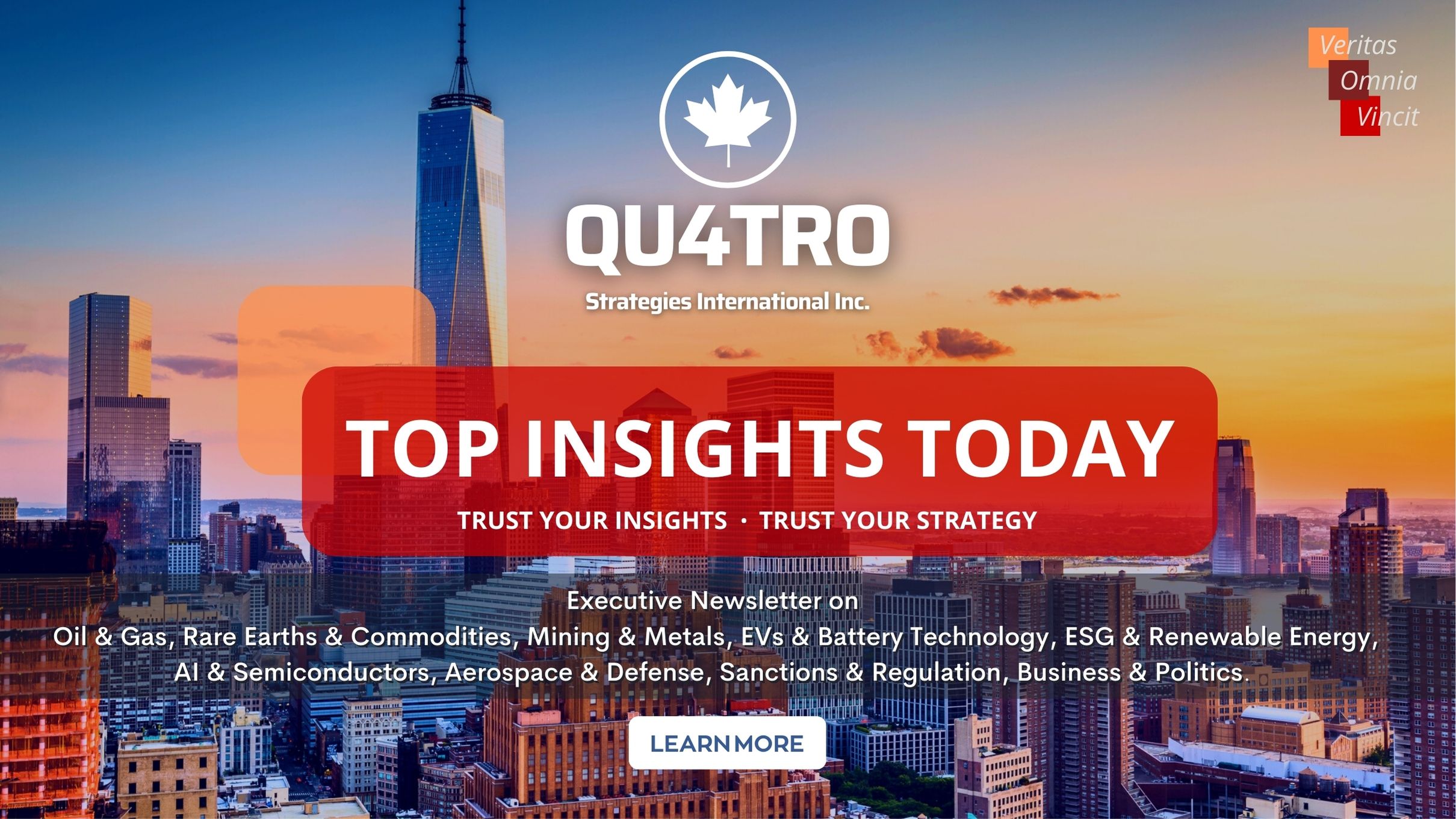 Top Insights Today delivers the latest insights straight to your inbox.
You will get daily industry insights on
Oil & Gas, Rare Earths & Commodities, Mining & Metals, EVs & Battery Technology, ESG & Renewable Energy, AI & Semiconductors, Aerospace & Defense, Sanctions & Regulation, Business & Politics.
Read more insights
Stay informed