Tesla planning to produce and sell battery storage systems in India
September 22, 2023
Posted by:

Quatro Strategies

Categories:

EVs & Battery Technology, India
Tesla is planning to manufacture and sell battery storage systems in India, a move that aligns with Elon Musk's continuous efforts to establish a foothold in the country. The company has submitted a proposal to Indian officials, seeking incentives to build a factory dedicated to battery storage production. Tesla's foray into renewables has been part of its broader plans in India, which include discussions about establishing an electric vehicle (EV) factory to produce a car priced at approximately $24,000.
In recent meetings held in New Delhi, Tesla proposed supporting India's battery storage capabilities through its "Powerwall," a system designed to store power from solar panels or the grid for use during the night or during outages. The Powerwall proposition is intended to target both residential and industrial customers for Tesla's battery storage systems.
While Tesla had sought several incentives to establish a battery storage factory in India, officials conveyed that these incentives would not be available. However, they indicated that the government could support the initiative by creating a fair business model through subsidies for purchasers of such products.
India is grappling with electricity shortages during peak times despite bolstering its electricity supplies to towns and villages. The country remains heavily reliant on coal-based power generation due to the cost and limited prevalence of storage technologies. India has set an ambitious target to increase its non-fossil fuel power capacity to 500 GW by 2030 from the current 186 GW.
Tesla's Powerwall, a compact unit designed for domestic and light commercial use, could be a solution to India's power storage challenges. It can be installed in garages or outside houses, enabling storage and efficient utilization of solar or grid power.
However, Indian officials have highlighted the necessity for Tesla to work on reducing the cost of its battery storage products to make them accessible to a wider market. Tesla is eager to participate in India's transition to cleaner and more efficient energy systems, with the Powerwall as a potential tool to address power storage needs in the country.
By QUATRO Strategies International Inc.
QUATRO Strategies International Inc. is the leading business insights and corporate strategy company based in Toronto, Ontario. Through our unique services, we counsel our clients on their key strategic issues, leveraging our deep industry expertise and using analytical rigor to help them make informed decisions to establish a competitive edge in the marketplace.
Interested in learning more?
Sign up for Top Insights Today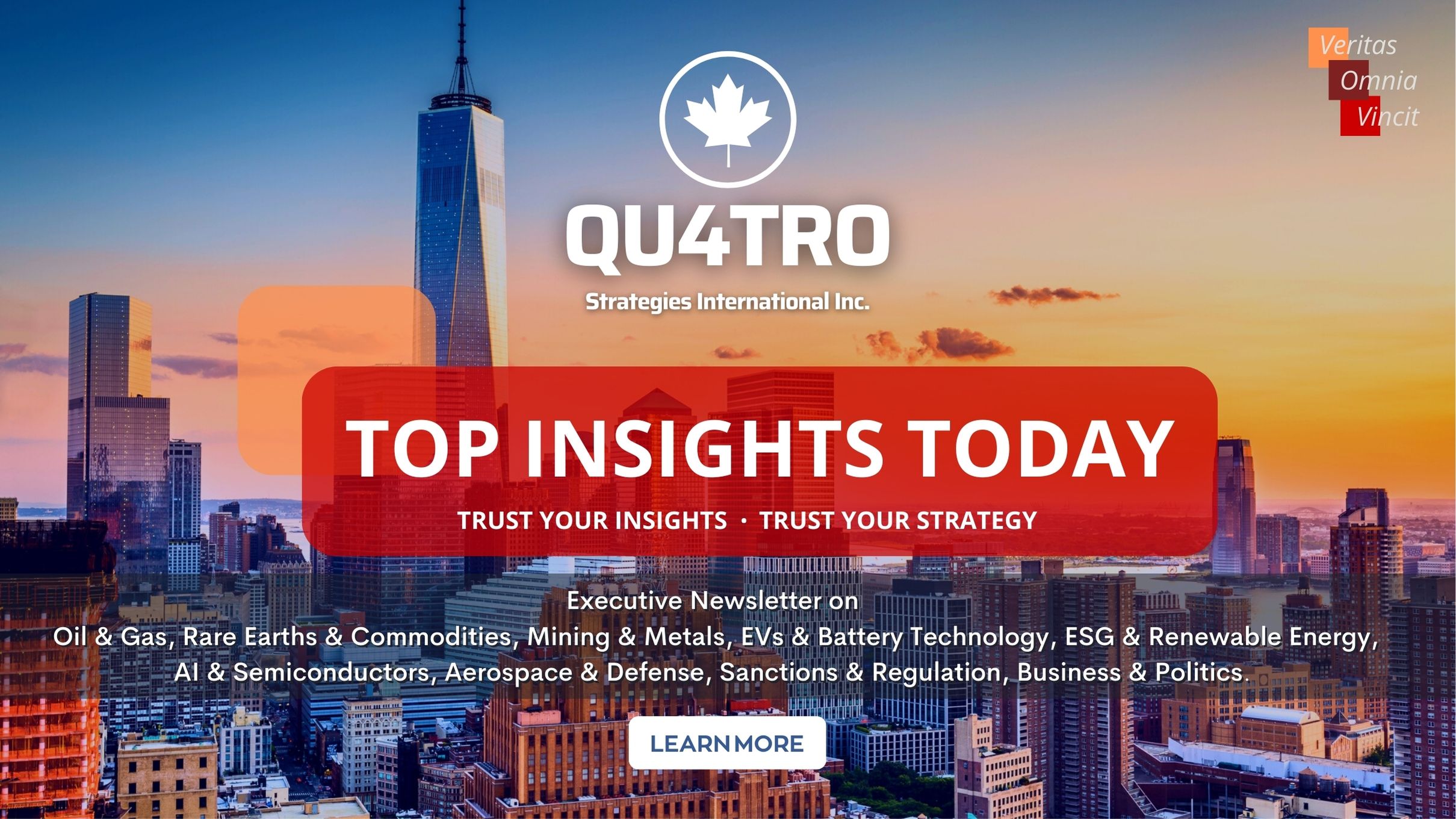 Top Insights Today delivers the latest insights straight to your inbox.
You will get daily industry insights on
Oil & Gas, Rare Earths & Commodities, Mining & Metals, EVs & Battery Technology, ESG & Renewable Energy, AI & Semiconductors, Aerospace & Defense, Sanctions & Regulation, Business & Politics.
Read more insights
Stay informed