UK-based Cleantech Lithium unveiled findings for its Chile lithium project
September 27, 2023
Posted by:

Quatro Strategies

Categories:

Americas, Mining & Metals, Rare Earths & Commodities
CleanTech Lithium, a company primarily focused on lithium production in Chile, has unveiled the findings of a scoping study for its Francisco Basin project. The results confirm the asset's significant potential, with an estimated production start targeted for the year 2027. The project, situated in proximity to CleanTech Lithium's Laguna Verde asset, is projected to produce 20,000 tonnes of battery-grade lithium carbonate annually for a period of 12 years. This production will be achieved through the utilization of direct lithium extraction (DLE) technology, an increasingly popular method in the industry due to its efficiency and reduced environmental impact.
In financial terms, the scoping study indicates a net cashflow after tax and royalties of approximately $2.5 billion over the full production period. The estimated operating costs are outlined to be around $3,641 per tonne of lithium carbonate, with the capital expenditure projected to be in the vicinity of $450 million. These figures underscore the potential economic viability and attractiveness of the Francisco Basin project.
Importantly, the study suggests that the Francisco Basin has the potential to emerge as a major supplier of battery-grade lithium to the European and US markets. This is a strategic advantage for CleanTech Lithium, aligning with the growing demand for lithium as the world shifts towards renewable energy solutions. Lithium, a critical component in batteries for electric vehicles and energy storage systems, has seen a surge in demand with the global transition from fossil fuels to cleaner and more sustainable energy alternatives.
Looking ahead, the company's next crucial step in the development of this project will involve a resource drill program set to commence in the final quarter of the year. This program is aimed at upgrading the resource estimate, which could potentially extend the project's lifespan and enhance its overall value proposition.
CleanTech Lithium's flagship projects, Laguna Verde and Francisco Basin, position the company strategically in Chile, a country known as the world's top copper producer and the second-largest producer of lithium. Given the increasing importance of these metals in the global push towards renewable energy, Chile holds a critical role in facilitating this transition, making ventures like CleanTech Lithium's projects vital for a sustainable future.
QUATRO Strategies International Inc. is the leading business insights and corporate strategy company based in Toronto, Ontario. Through our unique services, we counsel our clients on their key strategic issues, leveraging our deep industry expertise and using analytical rigor to help them make informed decisions to establish a competitive edge in the marketplace.
Interested in learning more?
Sign up for Top Insights Today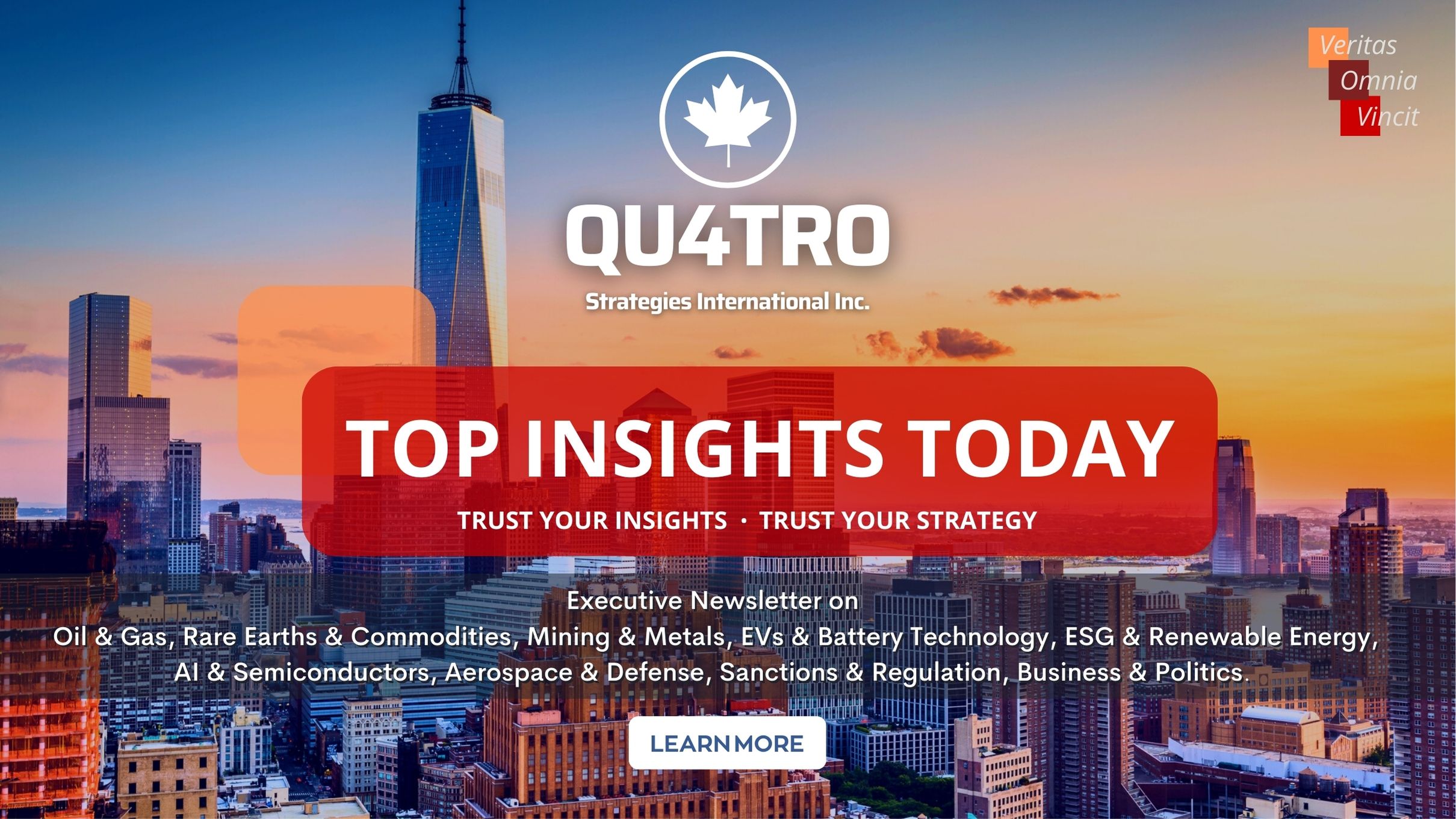 Top Insights Today delivers the latest insights straight to your inbox.
You will get daily industry insights on
Oil & Gas, Rare Earths & Commodities, Mining & Metals, EVs & Battery Technology, ESG & Renewable Energy, AI & Semiconductors, Aerospace & Defense, Sanctions & Regulation, Business & Politics.
Read more insights
Stay informed