Vietnamese EV maker Vinfast to make first shipments to Europe this year
September 25, 2023
Posted by:

Quatro Strategies

Categories:

Asia Pacific, Europe, EVs & Battery Technology
VinFast, a Vietnamese electric vehicle (EV) manufacturer, has ambitious plans to expand into the European market and aims to ship its first EVs to Europe later this year after receiving regulatory approval. The company is looking to deliver about 3,000 of its VF8 crossovers to France, Germany, and the Netherlands in the fourth quarter of this year. This move represents a significant increase from its earlier target of delivering 700 cars by July of last year. If VinFast can achieve this, Europe could potentially become its largest overseas market this year.
The VF8 model, a sport utility vehicle (SUV), has already been approved by a European regulator as compliant with EU standards, allowing for sales within the 27-country bloc. VinFast's CEO, Le Thi Thu Thuy, mentioned that the company is completing the necessary procedures to obtain the voluntary Euro NCAP safety rating for the VF8 model. Additionally, VinFast is planning to launch its other models, VF6, VF7, and VF9, in the European market next year, further expanding its presence in the region.
Europe has been a significant market for Chinese automakers, who have been actively shipping EVs to the region. The European Union's ongoing investigation into Chinese EV manufacturers could create a market gap, potentially benefitting VinFast. If the EU probe leads to punitive duties on China-made EVs, VinFast's vehicles might become more competitively priced in comparison to Chinese counterparts, enhancing their attractiveness to consumers.
VinFast's VF8 model is priced at approximately 50,990 euros in France. In the event of tariffs being imposed on China-made Tesla Model Y, VinFast's VF8 could offer a competitive pricing advantage. VinFast's expansion into Europe is part of its broader global plan, which includes establishing new factories in the United States and Indonesia, with an eye on markets like India, the Middle East, Africa, and Latin America.
VinFast, a part of Vietnamese conglomerate Vingroup, began producing EVs in 2021 after transitioning away from manufacturing cars with internal combustion engines. The company reported significant growth, with reported revenue in the second quarter of the year rising by 131.2% to $327 million. Despite this growth, the company also reported a net loss in the second quarter of $526.7 million, though this was a decrease of 8.2% from the same period in the previous year.
By QUATRO Strategies International Inc.
QUATRO Strategies International Inc. is the leading business insights and corporate strategy company based in Toronto, Ontario. Through our unique services, we counsel our clients on their key strategic issues, leveraging our deep industry expertise and using analytical rigor to help them make informed decisions to establish a competitive edge in the marketplace.
Interested in learning more?
Sign up for Top Insights Today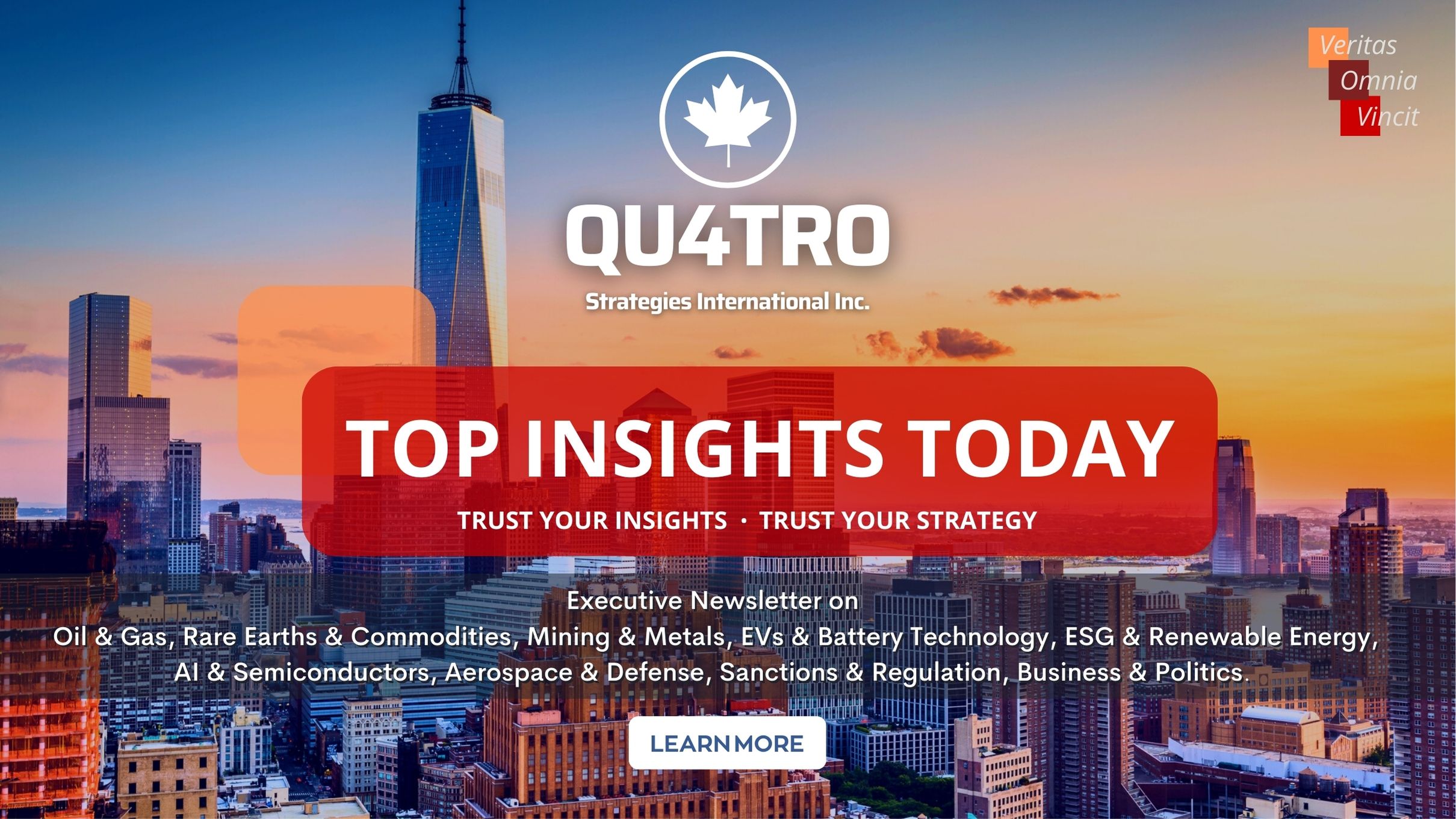 Top Insights Today delivers the latest insights straight to your inbox.
You will get daily industry insights on
Oil & Gas, Rare Earths & Commodities, Mining & Metals, EVs & Battery Technology, ESG & Renewable Energy, AI & Semiconductors, Aerospace & Defense, Sanctions & Regulation, Business & Politics.
Read more insights
Stay informed