Canada's Stelco preparing bid to acquire US Steel Corp
September 22, 2023
Posted by:

Quatro Strategies

Categories:

Americas, Business & Politics, Mining & Metals, United States
Stelco Holdings, Canada's largest steelmaker, is reportedly exploring a bid to acquire U.S. Steel Corp, a significant American steel company. This move adds to the growing list of potential suitors for U.S. Steel Corp. Stelco is looking to purchase the entire company, aiming to expand its portfolio of steelmaking assets and enhance its share of the market, particularly in the automotive sector, according to sources familiar with the matter.
The reported bid is in line with Stelco's strategic objective to strengthen its presence and capabilities in the steel industry, possibly leveraging U.S. Steel Corp's established position and market reach. The Canadian company is currently in discussions with a potential partner regarding this bid, which underlines the seriousness of its intentions.
In response to this development, U.S. Steel Corp's shares experienced a 1.5% increase, reflecting investor interest and market reaction to the news. However, both U.S. Steel Corp and Stelco Holdings have refrained from making official comments regarding these reports.
This potential acquisition takes place in the midst of a situation where U.S. Steel Corp is engaged in a dispute with rival steelmaker Cleveland-Cliffs over a confidentiality agreement. This agreement is critical for Cleveland-Cliffs' participation in an ongoing sale process. The bid from Stelco Holdings adds an intriguing dimension to the already dynamic landscape of the steel industry, leaving market watchers and stakeholders keenly observant of further developments and announcements.
By QUATRO Strategies International Inc.
QUATRO Strategies International Inc. is the leading business insights and corporate strategy company based in Toronto, Ontario. Through our unique services, we counsel our clients on their key strategic issues, leveraging our deep industry expertise and using analytical rigor to help them make informed decisions to establish a competitive edge in the marketplace.
Interested in learning more?
Sign up for Top Insights Today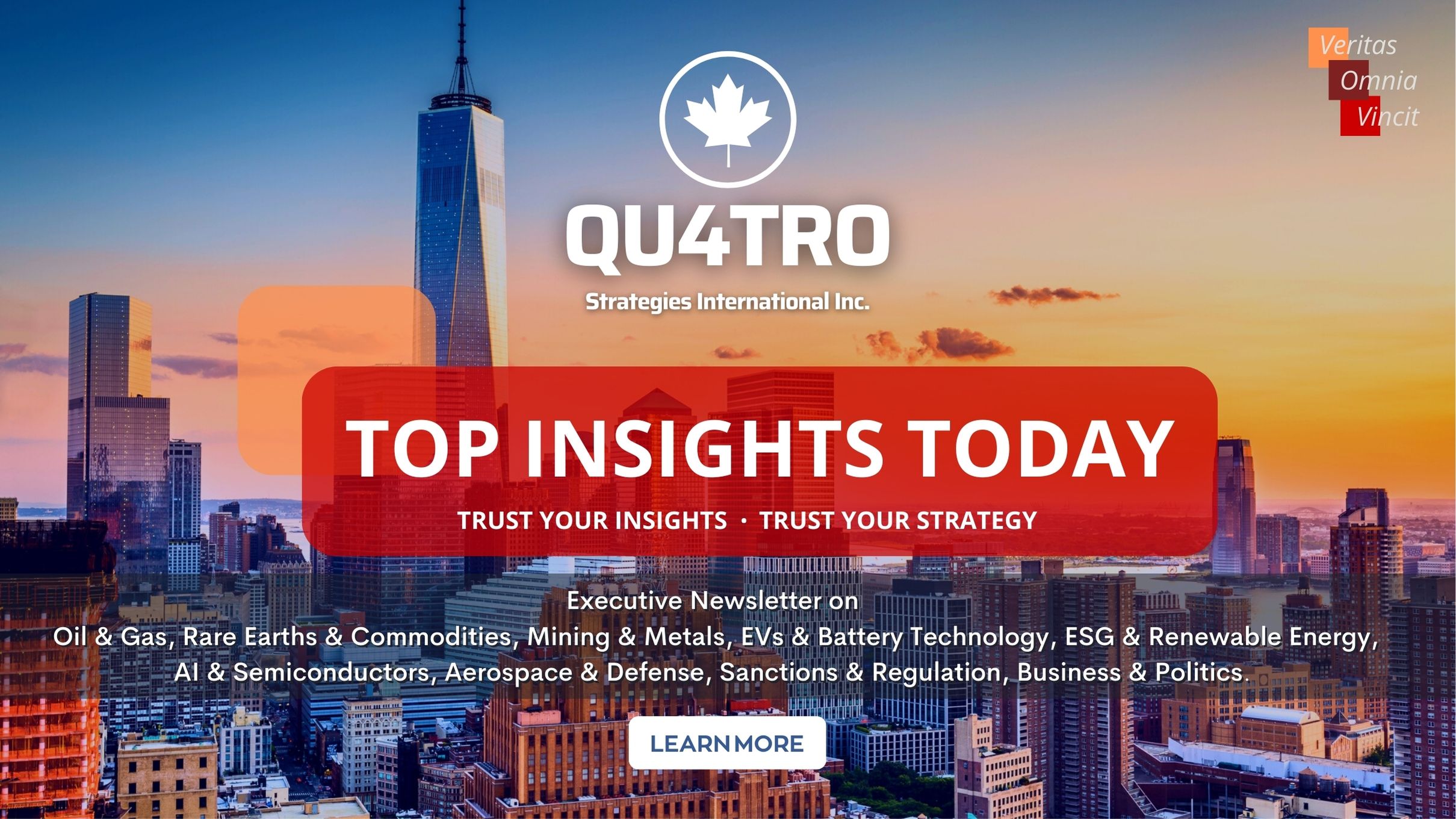 Top Insights Today delivers the latest insights straight to your inbox.
You will get daily industry insights on
Oil & Gas, Rare Earths & Commodities, Mining & Metals, EVs & Battery Technology, ESG & Renewable Energy, AI & Semiconductors, Aerospace & Defense, Sanctions & Regulation, Business & Politics.
Read more insights
Stay informed