Indonesia taking new steps to boost natural gas output
September 21, 2023
Posted by:

Quatro Strategies

Categories:

Asia Pacific, Oil & Gas
Indonesia, a nation rich in gas reserves, is taking strategic steps to boost output in its energy sector. The government is making significant changes to its oil and gas terms to attract investments, a critical move at a time when global investors are increasingly shifting away from fossil fuels. The country aims to tap into its abundant gas reserves while they remain a valuable energy source.
One of the key modifications involves allowing contractors to hold equity shares of more than 50% in select new blocks. This change is part of a broader effort to make the terms more appealing for contractors, encouraging increased investment in the sector. The adjustments in contractual terms apply to both cost recovery and gross split contractual schemes.
Indonesia's geographical landscape comprises 128 hydrocarbon basins, with a substantial portion, 68 basins, remaining entirely unexplored. This presents a significant opportunity for the nation to accelerate exploration and development in these untapped oil and gas reserves. The government is deeply committed to expediting this process and enhancing the country's energy sector.
Furthermore, the government is in the final stages of revising regulations to improve the economic viability of oil and gas projects. Although specific details of these revisions have not been disclosed, they are expected to provide further incentives for investment in the sector, promoting sustainable growth and development.
Energy Minister Arifin Tasrif also emphasized the importance of investing in carbon capture and storage (CCS) and carbon capture, utilization, and storage (CCUS) projects. These investments are seen as essential for the continued development of the fossil fuel sector while addressing environmental concerns.
Indonesia currently has 15 CCS/CCUS projects in various stages of preparation, with most aiming to be operational by 2030. These projects are a testament to Indonesia's commitment to balancing energy needs with sustainability and environmental responsibility.
By QUATRO Strategies International Inc.
QUATRO Strategies International Inc. is the leading business insights and corporate strategy company based in Toronto, Ontario. Through our unique services, we counsel our clients on their key strategic issues, leveraging our deep industry expertise and using analytical rigor to help them make informed decisions to establish a competitive edge in the marketplace.
Interested in learning more?
Sign up for Top Insights Today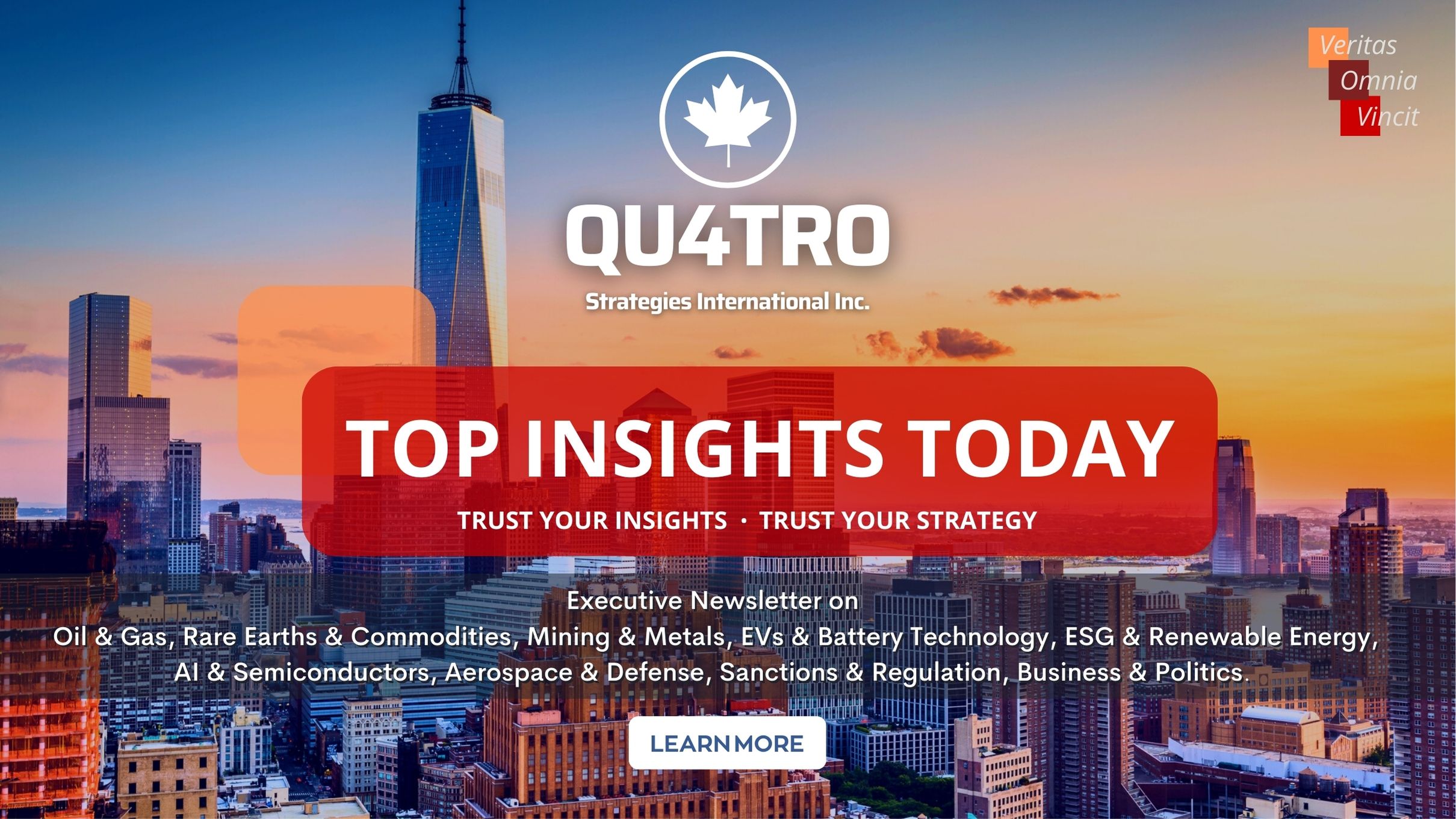 Top Insights Today delivers the latest insights straight to your inbox.
You will get daily industry insights on
Oil & Gas, Rare Earths & Commodities, Mining & Metals, EVs & Battery Technology, ESG & Renewable Energy, AI & Semiconductors, Aerospace & Defense, Sanctions & Regulation, Business & Politics.
Read more insights
Stay informed