Korea's SK Innovation begins oil production in South China Sea
September 26, 2023
Posted by:

Quatro Strategies

Categories:

Asia Pacific, China, Oil & Gas
SK Innovation Co., South Korea's largest energy major, has commenced oil production from an offshore field in the South China Sea through its subsidiary, SK Earthon Co. This venture is in collaboration with China National Offshore Oil Corporation (CNOOC), with CNOOC being the majority partner with a 60.8% interest, and SK Earthon holding the remaining stake.
The field is anticipated to reach a peak production rate of 29,500 barrels daily, contributing to over 1% of South Korea's consumption. The peak production rate is expected to be achieved next year.
The South China Sea is a region of heightened geopolitical tension due to competing territorial claims, particularly involving China. Oil and gas resources in the basin are a significant factor in the dispute.
In 2013, the U.S. Energy Information Administration estimated substantial reserves in the South China Sea, including 11 billion barrels of crude oil and 190 trillion cubic feet of gas in proved and probable reserves. Most of the oil and gas extraction is concentrated in areas that are not disputed by China and lie close to the surrounding countries.
However, there could be an additional 12 billion barrels of oil and 160 trillion cubic feet of natural gas in untapped deposits, with about a fifth located in disputed areas. Initially considered non-commercial reserves, advancements in technology may render them commercially viable.
Despite tensions between South Korea and China over the South China Sea, CNOOC, a state-owned entity, has collaborated with SK Earthon, demonstrating the complexities of regional relationships in the context of energy exploration and production. SK Earthon already possesses stakes in ten oil fields, collectively producing 52,000 barrels daily.
QUATRO Strategies International Inc. is the leading business insights and corporate strategy company based in Toronto, Ontario. Through our unique services, we counsel our clients on their key strategic issues, leveraging our deep industry expertise and using analytical rigor to help them make informed decisions to establish a competitive edge in the marketplace.
Interested in learning more?
Sign up for Top Insights Today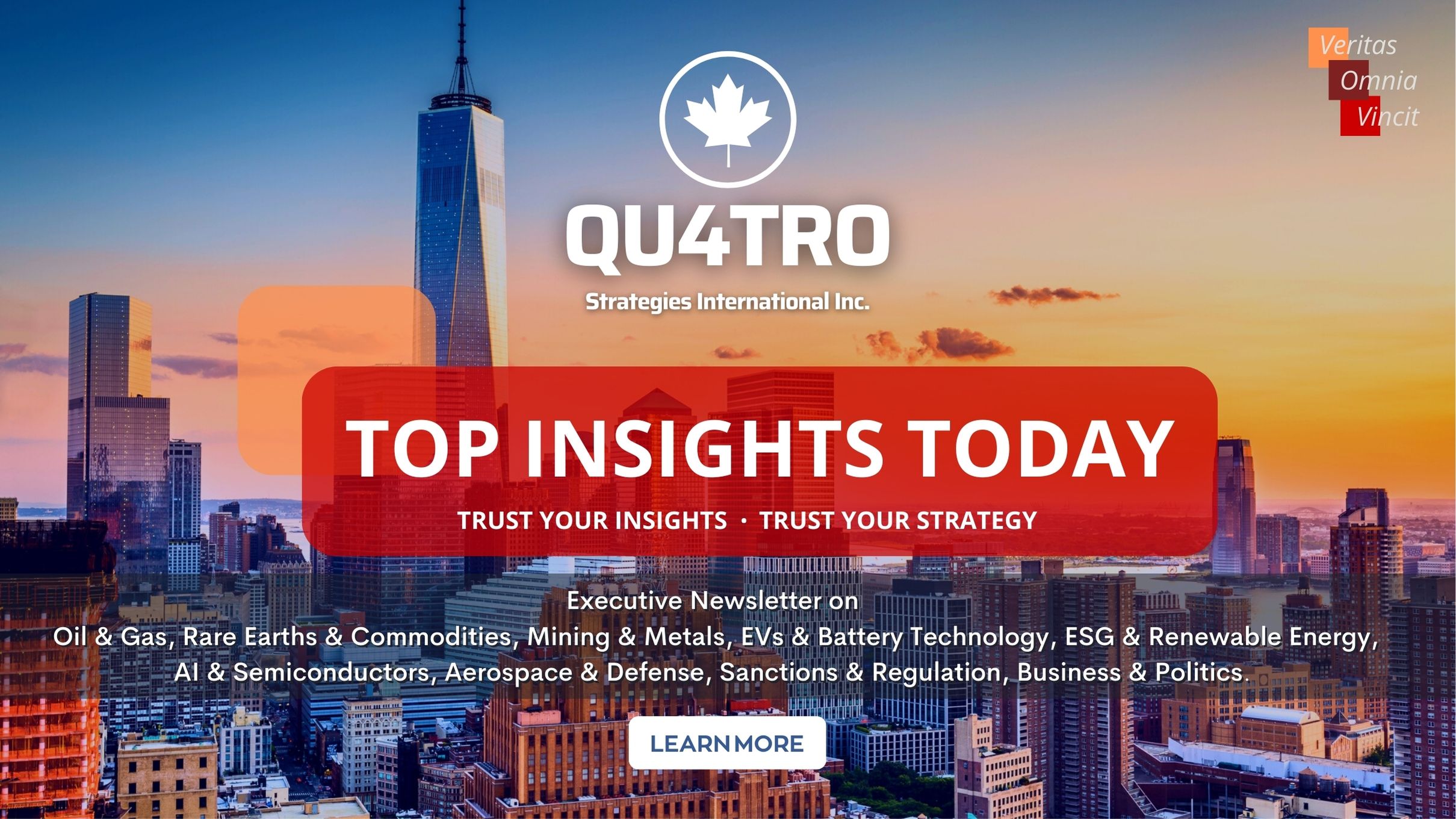 Top Insights Today delivers the latest insights straight to your inbox.
You will get daily industry insights on
Oil & Gas, Rare Earths & Commodities, Mining & Metals, EVs & Battery Technology, ESG & Renewable Energy, AI & Semiconductors, Aerospace & Defense, Sanctions & Regulation, Business & Politics.
Read more insights
Stay informed