Romania set to purchase 32 F-35s from the U.S. for $6.5 billion
September 27, 2023
Posted by:

Quatro Strategies

Categories:

Aerospace & Defense, Europe, United States
Romania is set to purchase 32 latest-generation F-35 fighter planes from U.S. manufacturer Lockheed Martin at a cost of $6.5 billion, according to an announcement by the country's defense ministry. The decision to acquire these advanced aircraft aligns with Romania's efforts to bolster its defense capabilities in response to security concerns, notably Russia's invasion of Ukraine.
Romania, an EU and NATO member, has increased defense spending to 2.5% of its GDP from 2% this year.
The country shares a significant border of 650 kilometers (400 miles) with Ukraine, and the conflict in Ukraine has brought the conflict closer to Romania's borders as Russia repeatedly attacks Ukrainian ports along the River Danube.
This strategic move to purchase the F-35s is seen as a crucial step to enhance Romania's defense and security, considering its geographical proximity to the ongoing conflict and the evolving security landscape in the region.
This acquisition complements Romania's existing defense assets, such as the procurement of 32 second-hand F-16 fighter jets from Norway last year and the acquisition of 17 F-16s from Portugal since 2016. Additionally, Romania has been expanding its defense infrastructure, establishing a regional training hub for F-16 pilots, furthering its collaboration with NATO and allies, including Ukraine.
The purchase of the F-35s is part of a comprehensive deal, including logistics, training services, flight simulators, ammunition, and an option for Romania to buy an additional 16 F-35s in the future. While the initial agreement was approved by Romania's supreme defense council (CSAT) in April, final contracts are expected to be signed next year, with the first planes anticipated for delivery after 2030, according to Defense Minister Angel Tilvar.
QUATRO Strategies International Inc. is the leading business insights and corporate strategy company based in Toronto, Ontario. Through our unique services, we counsel our clients on their key strategic issues, leveraging our deep industry expertise and using analytical rigor to help them make informed decisions to establish a competitive edge in the marketplace.
Interested in learning more?
Sign up for Top Insights Today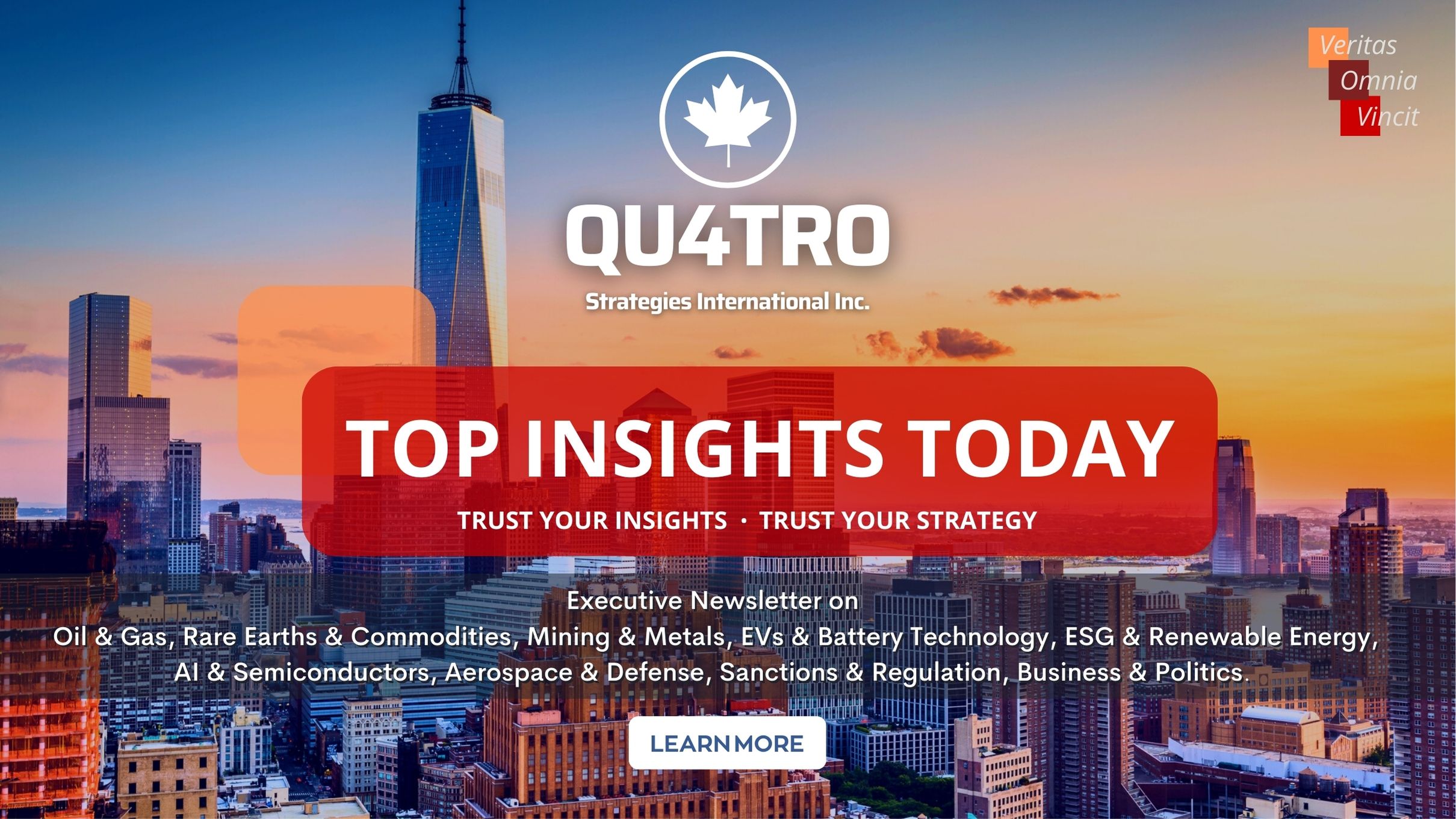 Top Insights Today delivers the latest insights straight to your inbox.
You will get daily industry insights on
Oil & Gas, Rare Earths & Commodities, Mining & Metals, EVs & Battery Technology, ESG & Renewable Energy, AI & Semiconductors, Aerospace & Defense, Sanctions & Regulation, Business & Politics.
Read more insights
Stay informed